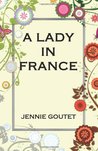 A Lady in France
by
Jennie Goutet
My rating:
5 of 5 stars
A Lady in France is one of the most thoughtful and sensitive memoirs I have read in some time. The author chronicles her past journeys with such grace that it is able to captivate the reader immediately. The parts about Asia especially reached out to me because we have just moved here in January and it has been a whirlwind of adventure and new experiences.
As a woman, Jennie Goutet gives us a fantastic account of thoughts, emotions and perspective. I particularly like memoirs because good ones offer readers a slice of someone else's life and lessons we can take away for ourselves and our own relationships. Jennie Goutet did this.
Her life story is unique, her writing is straightforward and realistic. This is definitely one of those books you will think about long after you have finished.
Would I recommend this read? Absolutely. I loved every page of it and as I say to other memoir writers I like, thank you Jennie Goutet for sharing your story.
Overall assessment:
Content: 4.5/5
Editing: 4.5/5
Formatting: 4.5/5
Pacing: 4.5/5
Offensive content?: Based on language and settings, I would recommend this book for readers aged 13 and above.
Disclosure: I received a review copy of this book from the author. I did not receive any payment in exchange for this review nor was I obliged to write a positive one.
View all my reviews