What Makes A Hero?
by Merry Farmer
Open the pages of any given romance novel these days and what will you find? You'll find a strong, devilishly handsome rake with a good heart. He might have a past, he'll certainly have an attitude, but above all he'll have the best intentions at heart. At least by the end of the story.
When I set out to write Our Little Secrets, I had a very different sort of hero in mind. Michael West is not devilishly handsome. He's not particularly strong either. He's a shopkeeper with a past. And he wears glasses. But one thing he is, is smart. Maybe even a little too smart for his own good. He's smart enough to pull himself out of the massive hole he digs for himself where his heroine, Charlie, is concerned.
I've always been attracted to the smart guys. Muscle is okay if put to good use, but if you really want to melt my chocolate, give me a smart man any day. Smart men might not be the first to jump into the fight, but they're definitely going to come out of it in one piece. Brawn might be able to turn a woman's head and sweep her off her feet, but brain will build a home for her and figure out how to get her out of scrapes. Best of all, a smart man knows enough to accept a woman for who she is, even if who she is makes him wince from time to time.
Michael West has his hands full when he agrees to marry Charlie almost as soon as she sets foot in Cold Springs, Montana. Contrary to all of the fabulous stories of mail-order brides and quickie frontier marriages, it was highly unusual in Montana of the 1890s for a man to marry a woman he didn't know. Especially when he has secrets he wants to keep. But what makes Michael a hero is his quick wit and his ability to recognize a good thing when it stumbles into his life.
Well, almost. Some would argue that the things Michael does in Our Little Secrets are exactly the opposite of what a hero should do. Does he stand up for his heroine when the chips are down? Does he rush to the defense of his friends when they are attacked? Does he face trouble head-on or does he have a little too much scotch and make a really bad decision. How can a man who would slip be considered a hero?
Easily. Heroism doesn't come from always doing the right thing any time there's a choice to be made. It doesn't come from strength or force or sheer potent masculinity. It comes from learning to listen to your heart. It comes from letting go of pride and admitting your mistakes. It comes from making the right choice after a string of wrong choices. It comes from the ability to change for the better.
So is Michael West a hero? You better believe it!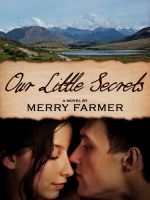 Michael West swore he would never fall in love again. So when the beautiful and wily Charlotte steps off the train looking for a new life he jumps at the business opportunity she presents. Engaged forty-five minutes after meeting, married the next day, Michael thinks he's found everything a respectable man should have. Except that Michael is as far from respectable as they come. They agreed not to ask questions about each other's pasts, but when the past seeps into their present Michael suspects his passionate new wife is not who she says she is. Too bad he's already fallen in love with her.
Charlotte Baldwin has a secret. She fled Philadelphia to escape the sins of her past but someone is following her. What better way to hide than by marrying Michael West, Cold Springs, Montana's enigmatic shopkeeper? A new name, a new life, and a passionate husband is exactly what she needs to leave her sins behind. But when it comes to keeping secrets Charlotte may have met her match in Michael. When a connection neither of them expects catches up with them, the shocking revelation means Charlotte may have run right into the arms of her enemy.
No sin stays a secret forever….
Buy Now @ Amazon & Smashwords
Genre – Western Historical Romance
Rating – R
More details about the author
Connect with Merry Farmer on Facebook & Twitter
Website http://merryfarmer.net/