If you could have any superpower what would you choose?
I'd love to be able to wipe out all disease.
What is your favorite flavor of ice cream?
I do have ice cream from time-to-time and when I do, my absolute favorite flavor is pistachio.
What is your favorite thing to eat for breakfast?
I eat the same thing for breakfast just about every day. I have a half a cup of Fiber One Original with non-fat milk, one-half of a banana (my husband eats the other half), a low-fat, low-sodium string cheese, a closed handful of walnuts and a cup of decaf Lipton tea. Yum!
Night owl, or early bird?
It depends on the day. I can actually be both, but if I had to pick one, I'd say that I'm an early bird.
One food you would never eat?
I don't eat red meat and haven't done so for over 35 years. Heart disease runs rampant in my family, so I want to manage my cholesterol as best I can!
Favorite places to travel?
My husband and I are avid travelers. We've been all over the world. Some of my favorite places that we've been have been Egypt, India and Russia. We're off to China early next year!
Favorite music?
For the most part, I never left the 1970s with regard to the type of music that I most enjoy. I'm a huge Pink Floyd fan. Some of my other favorites include Bruce Springsteen, Elton John, Def Leppard and Cheap Trick. I recently got to meet Robin Zander, the lead singer of Cheap Trick, and sing a song he wrote in a professional recording studio with him watching. It was for a wonderful charity called the Riedel & Cody Fund that, among other things, helps people who have dogs or cats with cancer pay for their care. It was a thrilling experience!
In your wildest dreams, which author would you love to co-author a book with?
That's easy. My husband, Roy Johansen.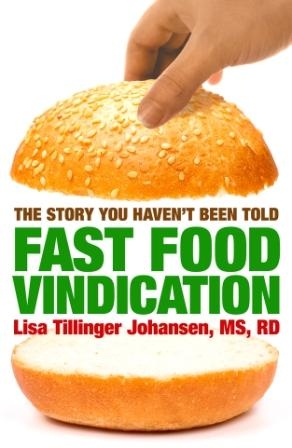 Genre – Non-Fiction / Nurtrition
Rating – G
Website http://fastfoodvindication.com/