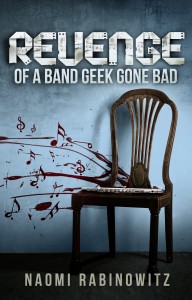 Love. Lust. Blackmail. Romance. Revenge. Is finding love worth getting even?
Shy, overweight Melinda Rhodes' sophomore year of high school isn't going so well. Her mother mocks her weight. She spends her weekends holed up in her room making what her friend calls "Freaky eyeball paintings." Her pants split in the middle of school, earning her the nickname, "Moolinda." She then loses first chair flute in band to Kathy Meadows, the pretty and popular mean girl who's tormented Mel for years.
Her luck changes when she catches the eye of Josh Kowalski, a rebellious trumpet prodigy and class clown. Josh has also been hurt by Kathy and asks Melinda to help take Kathy down. Mel figures that she has nothing to lose … and Josh is adorable with gorgeous blue eyes and a winning smile. She agrees to team up with him and looks forward to finally getting back at her rival.
At first, the pair's pranks against Kathy are silly, and as they work together, Mel comes out of her shell. Wild, impulsive Josh gets her to do things she'd never done before and Mel enjoys being a bad girl. Even better, she and Josh fall in love and their teen romance blossoms.
However, as their schemes become more involved and dangerous, Mel begins to question her loyalty to Josh — and is surprised to find how dark her dark side really is. Just how far will she be willing to go to get what she wants — and is keepng Josh really worth the risk of going against her beliefs?
This is a coming of age tale about finding love, staying on top and staying true to yourself. Is it really possible for Melinda to have it all?
What readers have said …
"I liked the characters and found them to be real." — Teena In Toronto Book Blog (www.teenaintoronto.com)
"Reading this was pure bliss. I had this smile plastered on my face the entire time." — Jenny, via Goodreads
Genre – Young Adult
Rating – PG13
Blog http://naomirabinowitzauthor.blogspot.com/