Have you always enjoyed writing?
My mother started my love of words and books from the age of about four. Two of my aunts were school teachers and by gas light and candle light on occasion, we'd spend hours battling with our cousins over word games they conjured up for us to stretch our vocabulary. There were very few TVs about in those days! It was a natural progression to read voraciously as a teenager, and then start to write for myself. In those days it was poetry that occupied my pen, then life got in the way and I only started writing again six years ago.
What writing are you most proud of?
http://www.tedtayler.co.uk/the-long-hard-road/time-for-reflection
This piece was the hardest thing I ever had to write.
What books did you love growing up?
I never grew up! While I was getting older I enjoyed Dickens, Conan Doyle and more recently Rankin.
Do you know your neighbours?
We have lived in our house since December 1978. Robin and Lydia have been neighbours for over thirty years and are good friends. There have been several couples on the 'other side' of us and we've known them all well, we haven't had any serious issues with any of them, so I guess we've been fortunate. Perhaps it's the West Country air; most people in town are warm and friendly.
How important are friends in your life?
New ones are vital! I made good friends at school, socially, through work and recreation and over time some friends move on, never to be seen again, others eventually pass over. I have never worried about how many friends I have at any one time. I give any relationship 100% and expect the same in return but I never hanker for 'the old days' and getting back together for school reunions or the like. I'd rather look forward to the possibility of the next person to walk through the door to turn out to be my new 'second best buddy'. Whoever they are, they'll always have to defer to my
best
friend – Lynne, my wife.
What is your favourite quote, by whom and why?
'We are what we repeatedly do. Excellence, then, is not an act, but a habit.' Aristotle.
I have always felt that if I keep doing what I believe to be right, in whatever venture I undertake, eventually I will reap the rewards. I never give up.
When and why did you begin writing?
In 2006 we were on holiday in Ibiza and we met two young American girls, a long way from home, who stopped to have a drink with us in a bar one evening. They listened with great interest to some of my stories from my time in groups back in the day and when I got home, a friend Tom Sangster asked me if I had any of these stories written down, for posterity. I laughed. He said it would be a shame if they died with me and other people didn't have the chance to share them, particularly my children and grandchildren. So I relented and started from the beginning and trawled through those that were fit to print until my singing days were over. It was four years before I got the book published, partly due to my laziness, partly due to the recession. I haven't stopped writing since 2011.
How did you come up with the title of your current book?
I had started out writing 'The Tipping Point' then I discovered Amazon was infested with them! I decided to switch to 'The Final Straw' then as the book was published Snow Patrol brought out their latest album. Curses, foiled again! Ah well, perhaps they could provide the soundtrack for the movie?
Have you included a lot of your life experiences, even friends, in the plot?
Absolutely not for the first part! The work is entirely fiction. As for my friends and colleagues, a lot of them appear in the book. All the characters first names and surnames are combinations of people I have worked with, played sport with or just had a beer with while watching live bands.
Where do you see yourself in five years?
At almost sixty-eight I don't look too far ahead!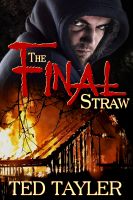 Genre – Crime / Thriller
Rating – 18+