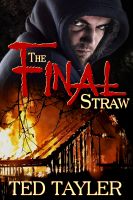 An only child, unloved and unwanted by his parents, Colin Bailey is a bitter, emotionally damaged young man, hell bent on exacting revenge on anyone who has stopped him becoming the person he believes he was destined to be. What sets Colin apart is his intellect and meticulous planning. Detective Phil Hounsell pursues his man relentlessly, while trying to avoid the small town in which he works sliding further and further into the grip of two rival gangs.
A devastating event in Colin's life provides the final straw that herald's a bloodbath. Can Phil prevent it happening or will he too be a victim?
This tale of revenge spans almost two decades, yet the police are chasing shadows; it builds in pace and tension to a thrilling climax against the backdrop of a seemingly quiet West Country town.
Genre – Crime / Thriller
Rating – 18+