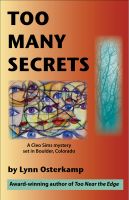 Sabrina Larson wants her fortieth birthday to be a major milestone—the beginning of a new life. But it looks more like the end for the Boulder, Colorado nurse when she mysteriously disappears while celebrating with her women's group in a mountain wilderness area.
Search teams comb the region for days, but find no trace of her. Close friends and family fight bitterly amongst themselves telling different stories about what happened. Is she dead? Kidnapped? A runaway?
Cleo Sims, a local grief therapist who has discovered a process that lets grieving people contact the spirits of departed loved ones, is pulled in to help by one of Sabrina's friends who is desperate to find out the truth. Cleo is reluctant to involve herself in yet another possible murder investigation, but the friend's brother is Cleo's benefactor who funds her Contact Project. When he prevails on Cleo to help find out what happened to the missing woman, she can't refuse.
As the search goes on and the mystery deepens, Cleo finds herself digging into some dangerous secrets. As usual, her persistence, curiosity, and compassion keep her enmeshed in the investigation even when new developments threaten the very core of her personal life.
Too Many Secrets is the third book in the award-winning Cleo Sims mystery series set in the mountain community of Boulder Colorado. Like the others, it can also be read as a stand-alone book.
Buy Now @ Amazon & Smashwords
Genre - Mystery
Rating – PG
More details about the author
Connect with Lynn Osterkamp on Twitter